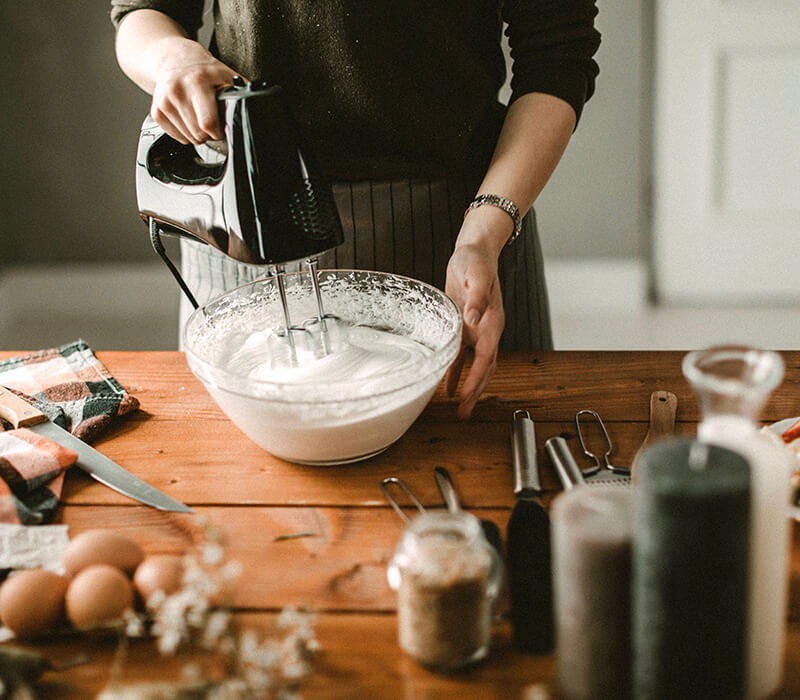 Got a kid's party coming up? Fancy a one-off treat? We have a hand and stand mixer for every baking occasion - from cakes to bread.
Sweet indulgences are part of a healthy balanced diet - and taste even better when homemade!
To achieve a great flavour every time, you need the right appliance. Finding the one that's right for you can be tough, so here's a closer look at what we have on offer.
Product Features
We're confident you'll find what you're looking for in our range. Here's an overview of what our different products offer:
Powerful engines
Variety of settings
Multiple speed controls
Different functions
Stylish designs
Convenient sizes
Large mixing bowls
Extra attachments
2-year warranties
Eject functions
Stainless steel features
Speed switches
Why Do You Need a Food Mixer?
Mixers and hand mixers are a must-have if you love the taste of freshly prepared, homemade food.
Particularly on special occasions, such as children's birthdays, the right appliance can make preparation much less of a hassle.
Food mixers are commonly associated with sweet treats. This is for good reason, as they're perfectly designed for everything from pastries to whipping cream.
Gone are the days of manually stirring cake batter for hours, the mixing power on one of our products will get the job done in no time!
A few treats are part of a healthy balanced lifestyle. It's encouraged you make your own rather than buy them, as you can control what's in your food!
However, it's not just sweet goodies on the menu. From egg whites to dough, you can cook up a variety of delicious items in the comfort of your own home.
A Closer Look at Our Mixers
What type of mixer are you looking for? If you're unsure, here's a closer look at our range to help you make your selection.
Hand Mixer
Our handheld food mixer has five different speeds to allow you carry out a variety of different cooking processes with ease. This versatility is a necessary feature, as it ensures you're not limited in the kitchen.
You can change the speed without interrupting the mixing.
When higher mix action is needed, select the turbo function. This will perform the tougher jobs in a matter of seconds - freeing up your time to focus on other things.
What's more, the compact size makes sure it can be easily stored away - even if you're lacking on kitchen cupboard space.
Food Mixer With Bowl
Simply load up your ingredients and our electric stand mixer will do all the hard work for you!
Complete with a stainless steel bowl, this product is highly durable and long-lasting. However, should you encounter any issues with it, you can exchange or return it within 24 months.
Whatever you and your family fancy eating, this free standing mixer won't let you down. It's been specifically designed for home use and is perfect for a range of different recipes. There are a number of different attachments included, such as dough hooks. So, what's on the menu?
5 in 1 Mixer
Our 5 in 1 stand mixer has 12 speed settings and 5.5L mixing bowl. Combined, these features ensure it can tackle almost any recipe with ease.
All you need to do is decide what to eat! There's no need to hold the mixer, simply select the function you require and let it do its job.
Thanks to its stylish design, this mixer will fit in well with the interior of many different kitchens.
Browse Our Full Range of Kitchen Appliances
For many families, the kitchen is the heart of the home. This means they can be busy places! Luckily, we've got a product for every task that needs doing. You're sure to find everything you're looking for - all in one place!
So, what are you looking for next? Browse our full range of kitchen appliances for more.