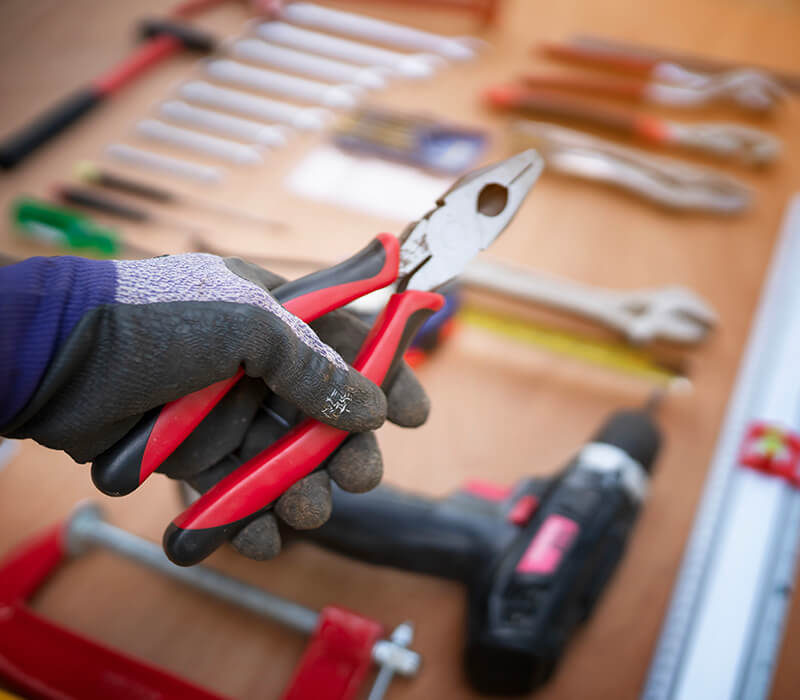 Want all your essential DIY equipment stored together? A tool kit set is a must-buy!
We've got a few for you to choose from, perfect for a variety of different jobs around the house. Each one contains many products, all promising durability and value for money.
Unsure which one's right for you? Here's a closer look.
Product Features
Each one of our tool sets offers something different, but here's an overview to give you an idea of what we offer:
High quality steel
Interchangeable bits
Rust resistance
Insulation
Non-slip grip
Multi-functional
1-year warranty
Storage cases
Lightweight
Easy to use
Easy to store
Affordable
Why Do You Need a Household Tool Kit?
There are a number of essential items that belong in our toolboxes. Whether you're a DIY enthusiast or a keen home improver, our tool kits should have everything you need.
For those inexperienced in household repairs, our sets are a great place to start. Everything contained inside is easy to use, ensuring you get the job done as quickly and smoothly as possible.
From screwdrivers to pliers, the non-slip grip and lightweight feel of each of our products make it simpler than ever to finish the task in hand.
But, if you fancy yourself at a near-professional DIY standard, you'll delight in the high quality of every item. Each one has been designed specifically for home use, so no job is too difficult.
A Closer Look at Our Home Repair Sets
We have a wide range of hand tool kits, including:
38 Piece Tool Kit
Our combination tool set has almost everything you can think of! From hex keys to a cordless screwdriver, everything you need comes in its own handy box. You'll even find a measuring tape and bubble spirit level.
Every item within the kit has anti-corrosion protection, meaning they will last you a long time and have been designed for multiple jobs. However, should you need to, you can arrange a refund or exchange under the 1 year warranty.
All those jobs you've been meaning to 'get round to' now don't need to seem so daunting!
20 Piece Tool Set
Our 20 piece tool kit is compact, high-quality and contains a wide array of products. From precision screwdrivers to other must-haves, such as a claw hammer, everything you need is stored in one place.
If there are many jobs that need doing around the house, this set won't let you down. Its durability can be counted on thanks to the abrasion resistance.
Easy to assemble and even easier to use, you'll find there's no excuse for not completely the job!
10 Piece Set
Our small tool kit is perfect for beginners, containing all the reliable tools you need for everyday use. It includes a 3m long tape measure and pliers.
Homeowner Essential Kit
From an adjustable wrench to a screwdriver with multiple bits, this homeowner tool kit has all the reliable products you need for DIY essentials. All made from CR-V steel, they have protection from rust and oxidation.
5 in 1 Tool Set
In combination with a few high-quality power tools this kit has everything you need! We've thought of every detail, down to the smallest requirement. Even the screwdrivers have chemically blackened tips to ensure they last a long time.
This 5 in 1 tool set is also a great gift idea!
17 Piece Set
You can never have too many DIY essentials! This 17 piece tool kit proves exactly that. Perfect for starting a job or adding the finishing touches, everything you need will arrive in its own handy box.
18 Piece Set
Made from strong, durable steel, this 18 piece DIY set contains everything you need for a variety of different tasks. Whether it's shelves all furniture, you're sure to find this kit becomes a household essential straight away!
Browse More of Our DIY Range
Tempted to reach for the hand tools? It's time to get that project started!
From the kitchen to the bedrooms, there's always something that needs fixing or putting together. Luckily, we've got a wide range of essentials to help you finish (or start) the job.
So, what needs doing first? Browse our full DIY range here.