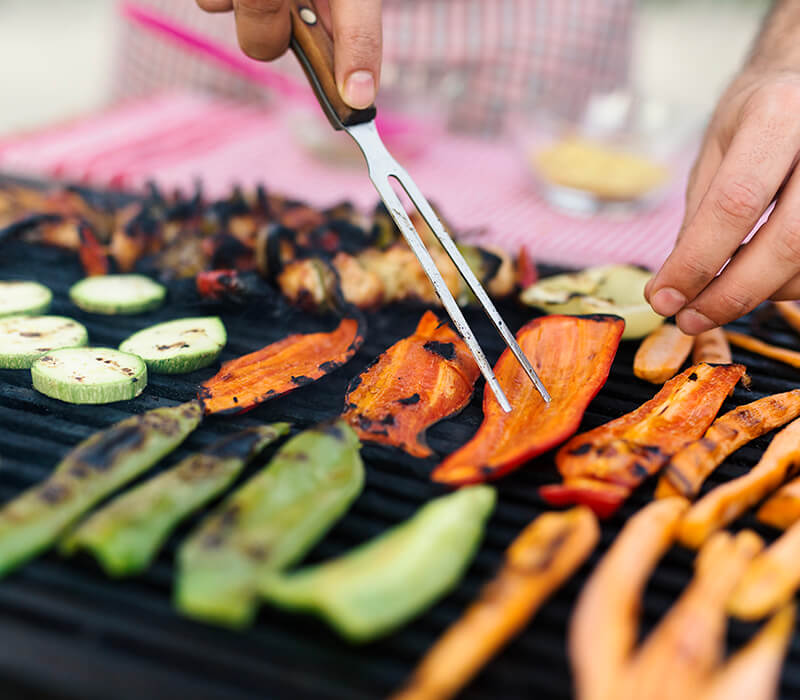 Plug in your electric grill, gather your ingredients and get cooking!
Whether it's a toastie for one or you're having lunch with the family, we've got a wide range of toasters and grills to suit your needs.
These products have become synonymous with easy, laidback meals to be enjoyed in the comfort of your own home.
Which appliance is right for you? Have a browse of our top products to help you decide.
What Will You Get With Our Indoor Grills and Toasters?
Product features include:
Multi-functional
Stainless steel features
High-quality
Affordable
Multiple cooking styles
Powerful motors
2-year warranty
Removable crumb trays
Easy to clean
Non-stick
Dishwasher safe drip trays
Cool-touch safe handles
Indicator lights
Skid resistance
Compact sizes
Convenient
Temperature control
Detachable plates
Outside insulation
Attractive designs
Note: these features do not apply to every single product. This is a collective overview of what these appliances offer, and how they make your daily life easier.
Why Do You Need a Sandwich Grill?
Let's face it - we'd all like to save ourselves time and hassle in the kitchen. These small yet powerful grills are designed for home use, fitting perfectly on your countertop.
These appliances will help you cook up tasty, nutritious meals and snacks in seconds. From ham and cheese paninis to burger buns - you can grill your ingredients for as long or as little time as you'd like.
Your own grill will soon become a handy kitchen assistant you can't live without. It can quickly and easily prepare your food in a matter of seconds!
Every member of the family can enjoy freshly prepared meals each and every night of the week.
A Closer Look at Our Appliances
We have a number of different toasters and sandwich grills for you to choose from, each with their own special qualities.
Here's a closer look:
2-Slice Bread Toaster
First thing many of us do in the morning is plug in the coffee machine and put some bread in the toaster!
This 2-slice bread toaster is 850W, and allows you to have diversity with each and every breakfast. Whether it's scrambled eggs or marmite - toast is an essential component!
The stainless steel body means you can count on this appliance to last you a long time.
4-Slice Bread Toaster
Our 4-slice bread toaster automatically sets the temperature for you, giving you a perfectly toasted slice each and every time.
Golden and crunchy is on the menu every day of the week!
Multi-Function Toaster
Want a steamer, pan and toaster all in one?
Our multi-function toaster can do the job of multiple different products with ease! In a matter of minutes, you'll have both perfect toast and deliciously runny eggs.
Small Toaster
With room for up to two slices of bread, this small toaster is the perfect appliance if you're lacking in kitchen or counter space.
Despite its compact size, it doesn't compromise on power! 850W is enough for deliciously well-toasted bread each and every time.
Panini Grill
The Geepas panini grill is a must-have! However you like your sandwiches, whether it's cheesy or not, simply place your ingredients on the grilling surface and you're good to go.
It has a number of features to help make your life in the kitchen as easy as possible - from a drip tray for excess oil to cord storage. The powerful heating elements aren't the only thing to get excited about!
Sandwich Maker
Fancy yourself a budding chef? Enjoy getting creative in the kitchen? A multi sandwich maker is an essential appliance.
Never dismiss the sandwiches if they're on the menu - there are plenty of ways to make them more exciting. This indoor electric grill has a cooking area big enough for two slices - perfect if you're making a meal for one!
Delicious, crispy sandwiches at home… What else do you need?
3 in 1 Sandwich and Waffle Maker
Looking for a waffle maker and grill?
This 3 in 1 sandwich toaster has everything you're looking for and more! It can quickly and easily toast, grill and prepare a wide variety of snacks and meals.
Shop Our Full Kitchen Appliance Range
Family kitchens are busy places - but we're here to help make your life easier! All of our products are affordable and high-quality.